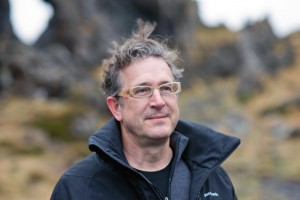 As an artist Richardson is an inventor and craftsman creating a clearly authentic vision in contemporary art. Retiring early from a successful career in business, he has dedicated himself to creating work of timeless beauty and emotional power. He has won critical acclaim with exhibits at the First Miami Biennale, the Decordova Museum, and the Frost Museum. Recently he was awarded as artist of the year at the DCOTA design awards. His works commemorate the 9-11 victims in Danbury CT and give grace to the homes and landscapes of private and public collections across the country.
He has developed a unique technique of sculpting in the quintessentially modern medium of plate glass. He combines traditional tools of stone sculpting with recent technological innovations in bonding glass, hand cutting, hand chiseling and carefully sanding individual sections of glass which he welds into complex constructions with acrylic polymers and ultraviolet light. The resulting forms appear light and ethereal, their mass masked by their radiance. Because the chiseled edges both reflect and refract the ambient light, interacting with the interior planes of the piece as well as its environment, the static form are constantly at play, shifting and changing in response to the viewer's angle and the surrounding light. This subtle animation invites contemplation, like a fire, or clouds, or bodies of water.
Richardson's oeuvre is evolving. His early work explores classic geometric forms; spheres, rectilinear columns and rings. These works have a crystalline quality that impart a sense of timelessness and serenity. His classic series, Tikkun Olam, is a powerful spiritual icon that elicits a hopeful and healing spiritual response from viewers. More recently, Richardson has added dynamism and color to his work, twisting the classic columns to create primal organic forms, spines, flowers, and ambiguous anthropromorphic elements, in which a fierce sensual energy inhabits the glassy surround. These new forms, powerfully pigmented, evoke a different response, exciting, erotic, and disturbing.