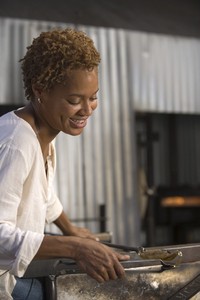 "Nature has not only been an inspiration and wonder, but a constant source of reference for my work. I study color and form in nature and reinterpret it in my own designs. Within each work I combine an exploration of new techniques and my ongoing passion for orchids and other botanical studies. . . The delicacy and inherent properties of glass have helped me cultivate an organic approach to sculpture. The materials ability to transmit and reflect light as well as its variations from transparency to opacity lends itself perfectly to create a surreal state, one pausing between real and fiction."

Debora Moore
Debora Moore has studied at both the Pratt Fine Arts Center in Seattle, and the Pilchuck Glass School.
She has instructed at Pilchuck, Pratt, and Tacoma's Hilltop Artist in Residence Program. In 1998, she was accepted as a member in the African American Desgn Archive at the Cooper Hewitt National Design Museum, Smithsonian Institution in New York. Her work was also included in the prestigious "Artistry of Orchids" exhibition held in 2000 at the Smithsonian Institution in Washington, DC. IN 2005, Debora was an Artist in Residence at the Tacoma Museum of Glass, Tacoma, WA. , and at Abate Zanetti in Murano, Italy.
Debora Moore was also recently awarded the prestigious Rakow Commission with inclusioon in the permanent collection of the Corning Musem of Glass.