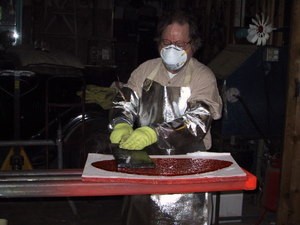 Richard Marquis has had an extraordinary influence on the development of contemporary studio glass in America and around the world. Studying at the University of California at Berkely during the 1960s, he explored ceramics and was introduced to glassblowing. Unsatisfied by the limited techniques practiced in American studio glass at that time, Marquis went to the island of Murano, near Venice, to observe and work with the masters of a glassblowing tradition acknowledged as the best in the world.
Freely sharing his knowledge of the techniques he learned in Venice, Marquis has demonstrated and taught throughout the United States, Europe, Japan, Australia, and New Zealand. The effect of Venetian glassblowing techniques on American studio glass enabled glass artists to expand their technical vocabularies and, combined with new and experimental approaches, led to the redefinition of glass as an artistic medium.
As an artist, Marquis is admired for his sophisticated understanding of color and form as much as for his humor and willingness to experiment. As a glassblower, he has influenced an entire generation of artists working in glass who aspire to his technical mastery and the originality of his voice.