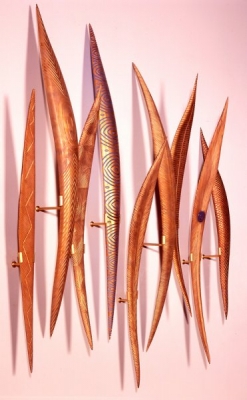 Holsten Galleries is the first world-class online art gallery specializing in glass art. From 1978-2009 Holsten Galleries operated in Stockbridge, Massachusetts, and participated in major glass expositions in New York, Chicago, Los Angeles, Palm Beach and Scottsdale. Holsten also had a second glass gallery in Palm Beach, Florida, from 1980-91. After 31 years in Stockbridge, owner Kenn Holsten now operates his online glass gallery and represents over forty contemporary glass artists.  Kenn Holsten also works on a consulting basis with private glass collectors.  Holsten Galleries specializes in the works of Dale Chihuly, Jon Kuhn, Lino Tagliapietra and William Morris. Please feel free to contact Kenn  with any questions or interests you may have regarding the artists represented here.
We work with private glass collectors, museums and corporations in building collections of art glass sculpture and installations. Many of our glass artists, including Dale Chihuly and Lino Tagliapietra, can be commissioned to create glass installations for both private homes and corporate and public spaces. Images of glass objects and glass Chandeliers by Chihuly and glass installations by Lino Tagliapietra are also featured on our site.
Holsten Galleries has long-term relationships with most of the glass artists featured on this website. Because of this history, we are in a unique position to be able to access a wide variety of the top works of our artists. In many cases the selection of work presented here is a small sampling of what is available. We welcome special requests for specific glass art pieces or series. In fact, we take special pride in working closely with collectors in finding glass sculptures and glass installations of outstanding quality that will compliment other works in their glass collections.
Holsten Galleries is the first major glass art gallery to transition from the traditional brick and mortar format to an all virtual gallery. Of all existing online art galleries specializing in art glass, Holsten Galleries is the only gallery to represent Dale Chihuly, Lino Tagliapietra, Jon Kuhn and William Morris.
Thank you for visiting our glass art website! As an online glass gallery, we invite you to explore our site and view the glass art of the world's most creative and talented glass artists. Please contact us if you would like more information on any of the glass artists or glass art sculpture you see here. Please also view our secondary market page to see many fine examples of earlier works by leading glass artists.