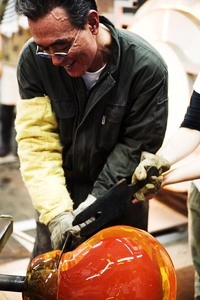 "Japan is a country whose identity is deeply associated with the sea. Seen as both a bridge and a barrier to the west, the sea for many Japanese has become an evocative symbol for the conflicts between tradition and change, isolation and openness, protection and danger. Sculptor Hiroshi Yamano has repeatedly explored these issues throughout his career as he has used the fish as his elusive, alter ego. Working in the tradition of blown glass, this accomplished artist has translated his own personal experiences, as a man continually traveling between the cultures of east and west, into universal statements that convey the delicate relationships that either ensure or disrupt one's sense of harmony and belonging. . . Yamano's current "Fish Catcher" series distinctly reveals how his formal elegance and technical mastery quietly expresses the deeper poetic undercurrents of his work."

– From 'Elusive Catch: The sculpture of Hiroshi Yamano,' by John Brunetti, critic, curator, and educator.
Hiroshi Yamano attended the California College of Arts and Crafts, the Tokyo Art Institute, Penland School of Crafts (where he served as an assistant), before receiving his MFA from the Rochester Institute of Technology in Rochester, NY, in 1989.
He has instructed and lectured throughout the world, including at both the Tokyo Glass Institute and the Pilchuck School of Glass, as well as serving as guest artist in Waterford Crystal in Ireland in 1998.
His works are in major collections in Japan, the US, and abroad.