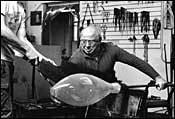 Lino Tagliapietra is widely recognized as one of the world's premier artists working in glass. Dale Chihuly has referred to him as "perhaps the world's greatest living glassblower" and many connoisseurs of contemporary glass art would agree. Lino glass is now in many glass art collections worldwide, including the museums listed below.
Lino Tagliapietra was born in Murano, a small island in the Venetian lagoon, in 1934. At the age of 12 he began his apprenticeship with Archimede Seguso and by the age of 21 he had mastered the age-old techniques and worked his way up to the title of maestro. Over the next 25 years Lino worked in association with several of the best known Muranese glass factories.
Lino was developing his own designs by the late 1960's and early 1970's and these designs were put into production or limited production at the factories where he worked. In 1977 he became head glass blower, designer and overseer of production at a new company, Effetre International. In 1979, the Italian glass maestro came to the United States to teach at Pilchuck School in the Seattle, at the invitation of Dale Chihuly, thus beginning a long history of sharing his centuries old technical knowledge with American glass artists. The glass artists of the then burgeoning American studio glass movement were hungry for Lino's technical knowledge and Lino, in turn, was greatly effected by the artistic freedom and experimentalism he observed in his American counterparts. In the 1980's Lino was best known for the collaborative work he did with several American artists, including Dale Chihuly and Dan Dailey. But in the 1990's, although he continued to teach and collaborate widely in the U.S., Tagliapietra began to be widely recognized for his own unique works of art.
Today, Lino Tagliapietra has established himself as one of the greatest glass artists of all time. Lino Tagliapietra blown glass works are in the collections of many major glass museums throughout the world and are sought after avidly by collectors of glass art. Some of the public collections which include Lino Tagliapietra blown glass art are the Carnegie Museum of Art in Pittsburgh, the Columbus Museum of Art in Columbus, the Corning Museum in New York, the Hokkaido Museum of Moder Art, in Japan; The Museum of Glass in Tacoma, Washington; the Metropolitan Museum of Art in New York, the Palm Springs Art Museum in California, The Renwick Gallery in Washington, D.C.; the Tokyo National Modern Art Museum and the Victora and Albert Museum in London.
Lino tends to create his blown glass sculpture in various series. Often his series are named after famous places that Lino has visited: Bilbao, Seattle Sunset, Maui and Borneo are examples of these series. Others of Lino Tagliapietra's glass series are named for their familiar shapes: Dinosaur, Foemina (Italian for female), Angel Tear and Masai (after the Masai shields) are examples of Lino glass pieces whose shapes either obviously or more subtly refer to specific forms.
Holsten Galleries is proud to be one of the few glass galleries in the U.S. to represent Lino Tagliapietra. Holsten Galleries has represented Lino Tagliapietra for over 25 years. and has a large selection of Lino Tagliapietra glass for sale at all times. Holsten has been privileged to represent Lino's blown glass art at numerous major art expositions around the country, including in Chicago, Los Angeles, Scottsdale, Santa Fe and Palm Beach. Some of Lino Tagliapietra's best know blown glass art series include Dinosaur, Angel Tear, Bilbao, Endeavor, Masai, Saba and Fuji.  Please contact us with any questions  you may have on the glass art of Maetro Lino Tagliapietra