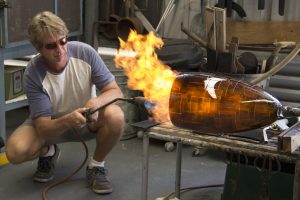 Kevin Gordon lives and works in Western Australia. He creates complex glass vessels that exemplify his technical command of traditional glass-making processes. His glass vessels involve overlaid color, engraving, sand-blasting and lathe cutting through layers of color, followed by hand and fire polishing.
Kevin Gordon says about his work:
"I look for how nature evolves, I look for the underlying logic and formulas that create nature's designs. I endeavor to break down the design to the basic elements or fractals which repeat in a type of mathematical formula to make up the whole design. I take this approach into the challenge of working with glass to expose the many qualities of the glass, to push the boundaries of my skills.