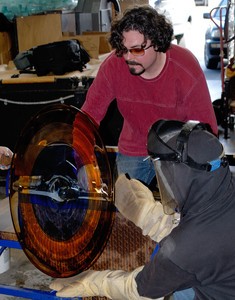 A native of Seattle, Washington, John Kiley began blowing glass professionally in 1992, at the age of nineteen. He was educated at The Pilchuck Glass School, and Penland School of Crafts.
John worked for Dale Chihuly from 1994-1998. During this time, he traveled with the team on the Chihuly Over Venice project, as a gaffer on one of the chandelier teams. From 1997-2001, John assisted Dante Marioni and Benjamin Moore.
Working and traveling as a principal team member with Lino Tagliapietra for the past fifteen years until he recently decided to devote full time to his own glass art career,  John Kily has blown glass with The Maestro at Lino Tagliapietra's private studio on Murano and many other places throughout the world.
John has taught glassblowing at the National College of Art and Design in Ireland, The Bezalel Academy of Arts in Israel, and Pratt Fine Arts Center in Seattle. He has also been a visiting artist at the Museum of Glass in Tacoma, WA.
Kiley glass sculptures are an exploration of external and internal form; an expression of the relationship that exists between shape and light. He has said, "I strive to create objects that push the material itself beyond its simple inherent beauty. When I look at a finished piece, it should be apparent to me that it could only exist in glass."
In September of 2010 John Kiley won the prestigious "People's Choice Award" at the annual auction of the Museum of Glass in Tacoma, Washington. John has also been an artist in residence at the Museum.