Martin Blank Biography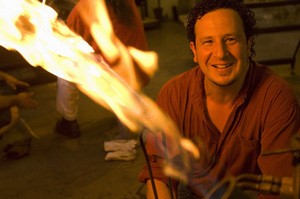 Martin Blank glass artist, is fast emerging as one of North America's premiere figurative sculptors with a style quintessentially his own. Martin Blank's glassblowing studio is in Seattle, the home of many of the world's most famous glass artists, including Dale Chihuly with whom Martin worked during one period of his career. Blank's blown glass work is on display in galleries throughout the United States, and is featured in international exhibitions including the Millennium Museum in Beijing, China, the Shanghai Museum of Fine Art and the American Embassy in Slovakia. In 2001 he created the Bill and Melinda Gates Foundation "Access to Learning" Award for recipients in Finland, Argentina and Guatemala. Recently, Blank was among a group of America's most renowned glass artists invited to make presentations to create public art for the new World Trade Center Building in New York City.
Blank writes, "My new body of work explores what I call 'visual mirroring.' It deals with abstract forms and their spatial relationships. Mirroring is the way two juxtaposed objects relate to one another. There is a dialogue that is created between these forms. A tenuous and tactile presence is created. It is the 'resonating voice.' Each shape relates to its adjacent partner. In this intimate stage each element has the ability to effect and echo the other. There is a moment when these objects reach their peak visual potency. This is the essence of what is revealed while I create."
Blank graduated from Rhode Island School of Design in 1984 with a B.F.A. in Glass, and went on to work with many glass artists, including Dale Chihuly. He now owns and operates his own hot shop, Martin Blank Studios, in Seattle, Washington.
His work is found in many public collections, including the Corning Museum of Glass,Corning, NY, the Museum of Fine Arts, Boston, the Krannert Art Museum, Champain, IL, the Shanghai Museum of Fine art, China, and the Museum of Contemporary Art, Lake Worth, FL.
Martin is also known for his architectural glass installations. In 2008-2009, Martin Blank's glassblowing and sculptural skills lead to a large public commission, "Fluent Steps", a permanent exterior installation at the Museum of Glass, in Tacoma, WA.