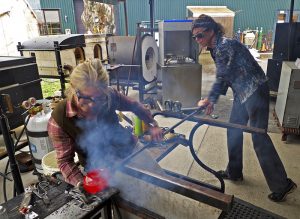 Sabrina Knowles and Jenny Pohlman have been working collaboratively to create their glass sculpture for 25 years. Their inspiration comes from their life experiences including daily interactions, international travels, and studies of ancient and contemporary cultures with an emphasis on women. After lengthy incubation they morph their experiences into sculptural stories to share what they have learned about healing, self-empowerment, compassion, strength, grace, and the power of the human spirit. Their intent is to create sculptural forms and assemblages that embrace our common humanity.
Their work is among museum, private and public collections; they are recipients of Pilchuck Glass School, Museum of Glass and Wheaton Arts residencies; and they are opening a 25-year survey exhibition with Bainbridge Island Museum of Art near Seattle on June 23nd, 2018.
A NOTE ABOUT THE HOMAGE AND LIBERATION SPEARS SERIES
HOMAGE SERIES
The intent of the Homage series is to evoke emotion through simple gesture, such as a nod of the head or bent shoulders. It represents reverence, an homage to each other and to life. Each figure is sculpted in solid glass free-hand, without molds.
LIBERATION SPEARS SERIES
The Liberation Spears series was begun 6 months after Pohlman and Knowles visited Zimbabwe in 1997 and learned of the liberation attempts of a female leader, Nehanda, considered a spirit reincarnate by her people, against the British imperialist Cecil Rhodes. For Jenny and Sabrina this series symbolizes liberation and freedom from oppression.