Richard Jolley Biography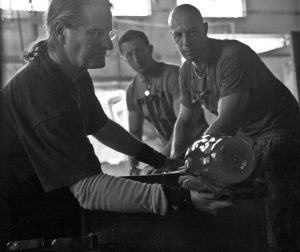 Richard Jolley was born in Wichita, Kansas in 1952. He moved to Tennessee in his youth and has lived and maintained a studio in Knoxville since 1975. He attended Tusculum College and Peabody College where he studied glass art under Michael Taylor starting in 1971 and received his B.F.A. During that time he also studied under Richard Ritter at Penland School of Crafts in North Carolina.
Jolly has had over 65 solo museum and gallery shows throughout the U.S., Europe, Japan, Australia, Israel and China. In 2002 Jolley had his first major retrospective exhibition at the Knoxville Museum of Art and that exhibition traveled to 14 museums over a 5-year period.
Jolley has taught frequently at Penland and in unique programs designed to involve at-risk students in the Knoxville community with professional working artists.
Richard Jolley's work has been collected extensively in both private and public collections, including those of the Carnegie Museum of Art, The Corning Museum of Glass, the Museum of Fine arts in Boston and the Renwick Gallery of the Smithsonian American Art Museum.
Jolley says about his own work: "I'm proud of the fact that I graduated from college aspiring to be an artist working in glass and forty years later I'm still holding to that vision. Any success I've had in my art career is due to a combination of my love for the narrative, the ideas behind my work and the technical expertise I have gained over decades of creating glass objects. What I look forward to most are the pieces that I have not yet made."