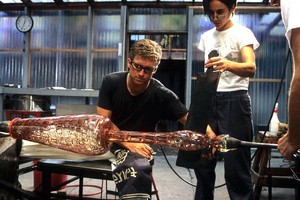 Glass artist Dante Marioni was born in Mill Valley, California in 1964. He studied glassblowing at Pilchuck School and Penland School of Crafts in the mid 1980's. By the late 1980's he was exhibiting in major glass galleries and group exhibitions at museums such as the Bellevue Art Museum in Washington and the American Craft Museum in New York.
Dante Marioni's blown glass work is strongly influenced in its form and cane work by the Venetian tradition, yet has a distinctive style all its own. He was honored in 1995 when his work was chosen to grace the jacket cover of The White House Collection of American Crafts. Dante now lives with his wife and son in Seattle where he operates a full-time glass studio. Blown glass sculpture by Dante Marioni can be found in major collections and museums throughout the world, including the Corning Museum of Glass, the Chrysler Museum, the New Zealand National Museum of Art, the Smithsonian Institute and the Yokohama Museum of Art.
Marioni often mentions glass maestro Lino Tagliapietra as a major influence in his work. Marioni says, "There is not a day in the studio that I do not ask myself, 'how would Lino Tagliapietra do it.'" One can see the influence of Lino Tagliapietra in glass sculpture by Dante Marioni yet all of his work is uniquely his own and instantly recognizable as such.