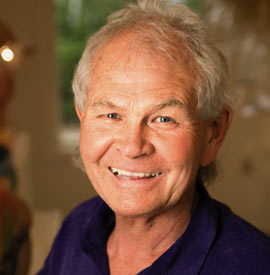 Holsten Galleries is the first world class virtual glass art gallery and represents the world's leading contemporary glass artists. We specialize in three-dimensional art glass and architectural glass art installations.
Owner Kenn Holsten founded the gallery in 1978 in Stockbridge, Massachusetts. After 31 years in Stockbridge, Holsten now resides in Santa Fe, New Mexico, where he is a private glass art dealer and consultant.
Holsten Galleries specializes in the glass art of glass artists such as Dale Chihuly, Jon Kuhn, Lino Tagliapietra and William Morris. We work closely with glass art collectors in building their collections. We also work closely with Dale Chihuly in commissioning glass Chandeliers and wall installations and with Maestro Lino Tagliapietra in large scale glass art installations.
The works you see on this website represent only a sampling of the total glass art available through Holsten Galleries. We often are asked to find a special piece or series by individual glass artists and pride ourselves for our long term relationships with leading glass artists.
All glass art purchased from Holsten Galleries is sold on an on approval basis. We are happy to ship our glass art, in most cases directly from the artists to your home, in order for you to be absolutely certain that you have made the correct choice. Feel free to contact us via email or call Kenn Holsten directly discuss this offer.
Holsten Galleries was one of the first galleries in the United States to specialize in contemporary glass art. In addition to operating in Stockbridge from 1978-2009, we maintained a second gallery in Palm Beach, Florida, from 1980-1991. We have also presented dozens of one-person exhibitions of the works of Dale Chihuly, Lino Tagliapietra, William Morris and other leading glass artists at art expositions in New York, Los Angeles, Chicago, Palm Beach and elsewhere. We are proud of our history and the network of artists and collectors we have established in more than 30 years in the glass art field.
Thank you for visiting our site and we would love to have the opportunity to work with you in the future.