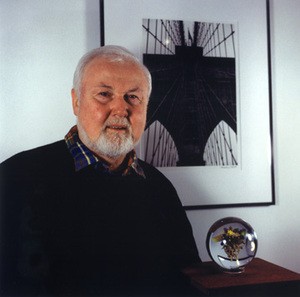 Paul Stankard is one of the most prestigious and world-reknown glass artists, famed for encasing his extremely delicate sculptures of flowers and insects in globes or cubes of clear glass. He is the recipient of numerous awards and holds two honory doctorates. Stankard's work has shown across the United States and Europe and in Japan and Taiwan. He is currently a Fellow at the Corning Museum of Glass and serves as a founding board member of the Creative Glass Center of America in Millville, New Jersey.
Stankard finds many corresponding themes between his work and that of Walt Whitman:
"As an artist who has worked with my hands in glass for 35 years, the line 'the narrowest hinge in my hand puts to scorn all machinery' continues to amaze me. And the native flowers he chose to write about like pokeberries and common mullein are easily overlooked, ordinary. He speaks of the ant's perfection, the egg of a wren.
"Experiencing the plant kingdom with Whitman energizes me. I have internalized his works with my feelings to recapitulate and rework those feelings in glass. His work informs my aesthetic and elevates my expectations of myself as an artist. What Whitman did with words, I seek to do with glass on a visual level. My dream is to articulate fresh information about nature in glass. My work is driven by respect for living things, and by delicacy and detail. I try to match Whitman's depth of feeling with my own passion and skill. You have to bring something to Whitman – it isn't immediately available at first. I want from the viewer the same openness, curiousity, and maturity that are needed for Whitman's work. "