Granite Calimpong Biography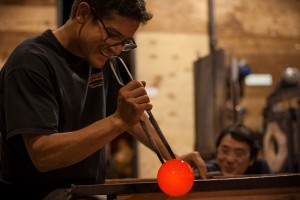 Granite Calimpong grew up the son of a potter in Northern California, so his hands were covered in clay long before he discovered glass. He graduated with a degree in Interdisciplinary Computing in the Arts from the University of California, San Diego, where he was first introduced to glass. Calimpong was immediately drawn to the material and process. Growing up in a household full of handmade objects has fostered his lifelong connection to the subtleties of function and form through the scrutiny of everyday use. It continues to influence his practice as a glassmaker. When he's not working in glass, Calimpong fishes, throws pots, fires his wood-fired pizza/bread oven, or muses on his next project. He lives and works in Seattle.
Artist Statement
I am an artist, a glass worker and a craftsman. My instinct is rooted in process. I find great value in understanding a material long before the creative process begins. I came to glass for the process first and then slowly began to piece together an understanding of its static qualities.

I strive to create work that exhibits balance and clarity of form. Whether the work is tight and symmetrical or loose in its manifestations, I am dedicated to creating glass that is carefully considered, cleanly executed, and exhibits the attention to detail that I employ during every step of the process..