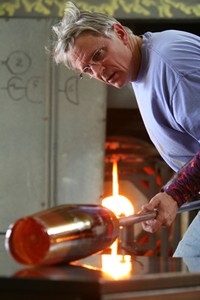 Stephen Rolfe Powell was born in Birmingham, Alabama in 1951. He received his Master of Fine Arts from Louisiana State University in 1983. He has taught in several schools in the U.S. and Australia and currently is Professor of Art at Centre College in Danville, Kentucky, where he teaches Glass Art. Powell is very well respected blown glass artist, both as an artist and as a teacher. Powell has trained some of the top emerging artists in the field of contemporary glass art. He frequently invites other top glass artists to visit Centre College and mentor his students by doing glassblowing demonstrations. Lino Tagliapietra and Marvin Lipofsky are two such artists. Powell is known for his very colorful large-scale blown glass sculptures. Often his forms are very playful and whimsical.
Stephen Powell is best known for his very large scale, dramatic multi-colored vessels. His pieces are so large that they take a team of several glass artists to execute. In contrast to the large scale and bold, organic forms, is the delicate patterning of the colors which he achieves by laying out an intricate pattern of glass beads and rolling them onto the surface of the hot vessel.
Stephen Powell's blown glass sculptures are included in many private and public collections, including the Auckland Museum, the Birmingham Museum of Art, the Mobile Museum of Fine Art, the Huntsville Museum of Art, Corning Museum of Glass, the Cincinatti Art Museum, the Cleveland Museum of Art, and the Hermitage in St. Petersburg, Russia.