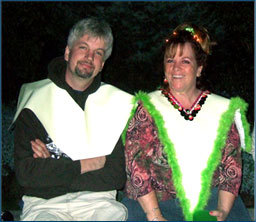 Karen Willenbrink-Johnsen creates astonishing work derived from her love of adventure, nature, and glass.
Raised in Ohio, the naturalist daughter of an naturalist father,Willenbrink-Johnsen is "constantly inspired, revitalized, and awed by the power of nature."
She received her BFA in sculpture from Ohio University, and soon started working with glass. She has worked on the team of artist William Morris for sixteen years, and her work has been shown extensively in galleries and museums throughout the United States. She also co-teaches sculpting classes throughout the world with her husband and collaberator, Jasen Johnsen.