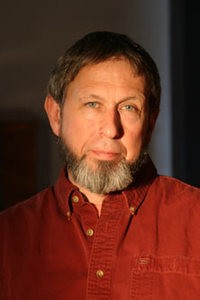 Christopher Ries was born in Columbus, Ohio in 1952. He studied with Harvey Littleton in the 1970s at the University of Wisconsin, where he received his MFA in glass art. After a few years of experimentation with glassblowing, he discovered his true direction in working with clear, optical glass.
Unlike most glass artists, Christopher Ries neither blows nor laminates glass. Rather, he works in the traditional reductive sculptural mode, starting with a block of solid optical glass and reducing it to his desired form. His luminous art glass sculpture is characterized by its technical perfection and the seemingly magical, ever changing optical patterns within them. His sculptures range from a few inches high to life-size.
Some of the most popular art series by Christopher Ries are Desert Flower, Embrace, Solstice and Celebration.  His largest cast glass sculpture is entitled "Sunflower" and, unlike most of Ries's glass art which is clear, "Sunflower" has a beautiful colorful image embedded in clear optical glass.
Today glass artist Christopher Ries lives in rural Pennsylvania. His works are found in major collections and museums in the U.S., Europe and Japan.