David Bennett Biography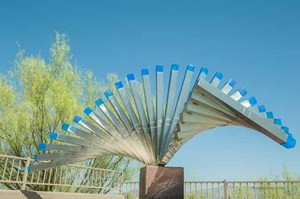 Washington glass artist David Bennett is on his third career! He was a Captain in the United States Army, a lawyer in the 70's and 80's. David Bennett has been a professional glass artist since 1991. David was born in Oregon in 1941 and currently divides his time between Carefree, Arizona and the Washington. Bennett studied the art of blown glass at Pratt Art School in Seattle, at Pilchuck School in Stanwood, Washington, and in Murano with Maestro Pino Signoretto. He has been published in Southwest Art Magazine, Vetro Magazine, The Chicago Tribune and American Style Magazine. His work is included in numerous private and public collections including the Museum of Fine Arts in Boston, the Cincinnati Art Museum, the Daiichi Museum in Nagoya, Japan, and the Museo del Vidrio in Monterrey, Mexico.
David Bennett is best known for his blown figurative glass sculptures which are created employing an ancient and little known technique which involves blowing hot glass into a metal mold. This technique was first mentioned almost 2000 years ago by Pliny the Elder, who wrote of Hebraic glassblowers blowing glass into metal forms. An example of this ancient Roman glass is a perforated silver chalice with cobalt glass in the British Museum in London. Currently Bennett is concentrating on large scale outdoor sculptures combining blown and cast glass with aluminum.
His large scale installations fall into the category of architectural glass and are in many private homes and public spaces.