November 2020
Holsten Galleries newsletter

Note from Kenn Holsten

Greetings! Let me begin by wishing you and your loved ones a happy and safe Thanksgiving. I want to share with you this month the work of two "new" artists. The quotes are due to the fact that both of these artists have been around for quite some time and are only new in the sense that I am now representing them. In addition, I am sharing some outstanding works by some of my other favorite artists. I look forward to your comments and questions.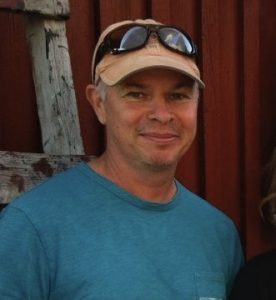 Paul Schwieder
Introducing Paul Schwieder
I am very pleased to have recently renewed my relationship with an artist I represented many years ago. Paul Schwieder grew up in Saskatchewan but has lived many years in Sweden. His blown glass sculptures are often fluid, sensual and organic and are enhanced by extremely skillful sandblasting. Please view the glass work by Paul Schweider here.
Untitled
by Paul Schwieder

Schwieder has managed here to take a simple circular form and create a sophisticated organic sculpture. The patterning of negative spaces and the sandblasted surface create a piece that is both understated and quietly dramatic. The amethyst color is spot on.


Untitled by Paul Schwieder, 16″ x 18″ x 18″

Stung by Paul Schwieder, 19″ x 10″ x 10″

Stung
by Paul Schwieder

This elegant Paul Schwieder piece has a wonderful vertical thrust that gives the viewer a feeling of being lifted up. The color chartreuse is not often seen in blown glass and it is somehow a perfect choice for this sculpture.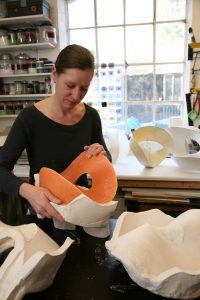 Heike Brachlow
Introducing Heike Brachlow
Heike Brachlow was born in Munich and has lived and worked in Essex, UK, for many years. She has shown and taught widely throughout the UK, USA and elsewhere. Her powerful cast glass sculptures are a deep and intimate exploration of light and color in solid glass forms. Brachlow's works can often be placed in more than one orientation and viewed from different angles.

Halcyon by Heike Brachlow, 11.5″ x 14″ x 17.25″

Halcyon
by Heike Brachlow

This cast glass sculpture has a wonderful fluidity, almost a liquid quality bringing to mind flowing streams or gentle waves. Poetry in motion!
Vertex Ruby
by Heike Brachlow

Vertex Ruby is smaller than most of Heike Brachlow's sculptures but certainly no less dramatic. There are a number of different ways of viewing this powerful piece. To see more visit this page.


Vertex Ruby by Heike Brachlow, 11 x 11.75 x 11″
Maui
by Lino Tagliapietra

I have just added to my inventory a wonderful Lino Tagliapietra piece from an older series titled "Maui." Here we have a classic Lino Tagliapietra shape with a gorgeous palette of colors that are somewhat subdued by the surface engraving over the entire sculpture.


Maui by Lino Tagliapietra, 25.75″ x 13″ x 6.5″

Tlingit Grease Dish by Preston Singletary, 6.5″ x 7.5″ x 13″

Tlingit Grease Dish
by Preston Singletary

This beautiful new Preston Singletary sculpture is based on the traditional vessels of savory oils for dipping fish in Preston's native culture. To me it also has a canoe like feeling, although Preston says that that was not his intention. The imagery is quite striking in this unique smaller piece.
Thank you for taking a few moments to enjoy some great glass art. Stay well and keep in touch.

Kenn Holsten
Return to Newsletter Index Page