December 2020
Holsten Galleries newsletter

Note from Kenn Holsten

Greetings! As we approach a new year I'd like to thank all of you for your support in 2020. A big thank you also to all of the glass artists whom I have the honor of representing. I send my very best wishes for a happy and healthy 2021!

Quote of the Month
"The main thing is to be moved, to love, to hope, to tremble, to live."
– Auguste Rodin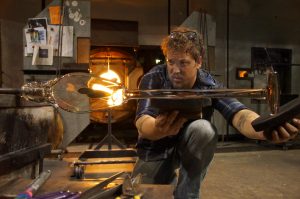 Dan Friday
Introducing Dan Friday
I am very happy to now be representing Seattle based glass artist Dan Friday. Dan is a member of the Lummi nation and, like other Native American glass artists, calls upon images and narratives from his own rich native culture as subject matter for his art. I have chosen three typical Dan Friday pieces to share with you. Each one represents a different aspect of his current work and each one speaks to a different part of his native heritage.

Lightning Bear by Dan Friday, 14″ x 8″ x 3″

Lightning Bear
by Dan Friday
Berry Basket
by Dan Friday


Berry Basket by Dan Friday, 9.5 x 8 x 8″

Owl Totem by Dan Friday

Owl Totem
by Dan Friday
Angel Tear
by Lino TagliapietraOne of Lino Tagliapietra's most iconic series is his Angel Tears. This series is characterized by its graceful form and elongated neck. This example is atypical in two different ways. First, the bottom portion of the base is wider than most. Second, this Angel Tear has a most unusual color palette.


Angel Tear by Lino Tagliapietra, 33.75 x 23.25 x 6.5″
New Lino Tagliapietra documentary now available!
For those of you who have not yet seen the extraordinary documentary on the life and work of the maestro, LINO TAGLIAPIETRA: THE MAKING OF A MAESTRO is now available to rent or purchase on Amazon Prime or you may purchase the BluRay LA REALIZZAZIONE DI UN MAESTRO which has some bonus material at www.linotagliapietra.com. Narrated by famous actor Alfredo Molina this film is full of new insights and perspectives on Lino Tagliapietra's life, even for those of you who already know him well.
Raven Steals the Sun
by Preston SingletaryOne of Preston Singletary's best known series is Raven Steals the Sun. What makes this piece stand out is that most previous iterations of this series have been black or black and clear with the red sun. The addition of blue in this one is quite vibrant and makes it a very special piece.


Raven Steals the Sun by Preston Singletary, Approx. 20″ high

Aurora by Heike Brachlow, 11.5 x 14 x 17.25″

Aurora
by Heike BrachlowLast month I introduced the work of UK artist Heike Brachlow. The response to Heike's beautiful organic cast sculpture was so positive that I have decided to share another of her graceful pieces this month.
Series Crystalex #3
by Marvin LipofskyThe late California glass artist Marvin Lipofsky was a seminal figure in the early years of the studio glass movement. Many of today's well know mid-career glass artists studied under Marvin at California College of Arts and Crafts and UC Berkeley. Typical of most glass sculpture of the 1980's, the featured piece, Series Crystalex #3, is organic and free form. I love the colors of this piece and the use of negative space.


Series Crystalex #3 by Marvin Lipofsky, 12 x 13.5 x 15″
Thank you for taking a few moments to enjoy some of the world's greatest glass art and I look forward to staying in touch in the new year.

Kenn Holsten
Return to Newsletter Index Page