August 2021
Holsten Galleries newsletter

Note from Kenn Holsten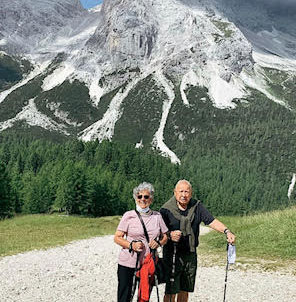 Greetings. Last month I shared with you the news of Lino's retirement. Today I want to share a recent image of Lino and Lina in the Dolomites. I only hope that I will be that robust at age 87! Please enjoy my selections for this month. Three of them are from masters and history makers in contemporary glass (Harvey K. Littleton, Marvin Lipofsky and Lino Tagliapietra). The other two are by artists working in cast glass; Heike Brachlow from the UK and Alex Bernstein who lives in Asheville, North Carolina.

Quote of the Month
"To create one's own world takes courage."
– Georgia O'Keeffe
Fenice
by Lino Tagliapietra

I was fortunate to recently add this outstanding example of the Fenice series to my inventory. It is one of the most beautiful forms that I have seen in this iconic series by the Maestro.
Ruby Red
by Harvey K. Littleton,
Secondary Market

As most of you are well aware, Harvey K. Littleton is widely considered to be the father of the studio glass movement in the U.S. This smaller Littleton piece recently came onto the secondary market. I originally sold it to collectors in 1988 at my Palm Beach gallery. It is somewhat rare to find Littleton works on the secondary market and rarer still to find a small gem such as this one.
La Granja Group #3
by Marvin Lipofsky

Marvin Lipofsky was one of Harvey Littleton's first graduate students at the University of Wisconsin in Madison. Dale Chihuly was in the same class! This piece was blown by Marvin in La Granja, Spain, and has never been shown before. As in all of Marvin's work, it is highly organic and painterly.
Aphelion
by Heike Brachlow

As in previous cast glass sculptures I have featured by UK artist Heike Brachlow, this piece is powerful and fluid. Its curvilinear form can be appreciated from many angles and at times seems to be a completely different piece from the image featured here. More images are available by request.
Untitled
by Alex Gabriel Bernstein

Just today I added this beautiful two part Alex Bernstein piece to my inventory. As with many of Alex's works, this piece combines cast glass with steel. The soft filmy veil-like lines and the beautiful shade of green make this a truly outstanding piece.
Thank you for spending a bit of your day with some beautiful works of art. I look forward to your questions and comments. I wish you and your families the best of health.
Kenn Holsten
Return to Newsletter Index Page