May 2022
Holsten Galleries newsletter

Note from Kenn Holsten

Greetings. I hope this issue of Holsten Galleries news finds you well. This month I am featuring a "new" artist, Condone Wharton, never before seen works by John Kiley and Paul Schwieder, and outstanding works by Lino Tagliapietra and Latchezar Boyadjiev. I hope you enjoy the glass art and look forward to your comments and questions.

Quote of the Month
"It doesn't matter the material we use. We need the technique and we need the idea. And then we need the poetry, the love that transforms the materials into a piece of art."
– Lino Tagliapietra
Maui
by Lino Tagliapietra

This piece is a great example of a series of which Lino made relatively few pieces. The surface engraving and the glass canes work together to create lovely complex patterns in a beautiful palette.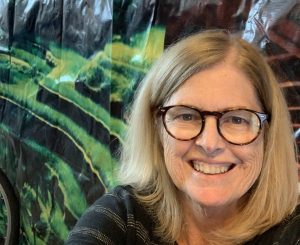 Candone Wharton
Introducing
Candone Wharton
Recently I was contacted by an artist whose ceramic work I'd shown in the early years of the gallery, around 1980. Recently Candone Wharton has begun casting in glass some of her intricate designs in clay, using the lost wax method. I was so impressed by her glass sculptures that I offered to represent her and to feature a couple of her works in this newsletter.

John Kiley
I'm pleased to present two works by Seattle artist John Kiley that have never been offered to the public. During the Covid shutdown, John developed a radically different series called Fractographs. And more recently he has returned to the hotshop and created this beautiful blown piece, Curved Chromatic Halo.
Coming Undone
by Paul Schwieder

Canadian born artist Paul Schwieder now lives and works in Sweden. His pieces may at first glance appear to be cast but they are actually blown and then cold worked for countless hours using a sandblaster and other tools. I find this new piece to be sensuous, fluid and organic.
Woman 3
by Latchezar Boyadjiev

California glass artist Latchezar Boyadjiev has long been well known for his cast glass sculptures, many of them abstractly figurative. Woman 3 is a wonderful example of this work, with its strong presence and distinctly feminine feeling.
Thanks as always for taking part of your day to enjoy some of the world's finest works of art made in glass. Be well and stay in touch.
Kenn Holsten
Return to Newsletter Index Page